---
Inquiry
---
We are fully booked for 2016/17 season. Thank you for your understanding.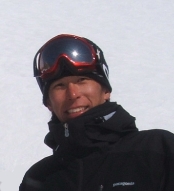 Toshi Sakamoto
Toshi made his dream come true. When he was little kid, he started skiing in Sapporo and into skiing so deep. And little Toshi said "I wanna be a ski instructor when I grow up, and live in ski resort and ski everyday".
After grow up, he took a instructor lisence in Canada, and worked at ski schools in Canada and NZ. After spending seasons abroad, he had realised that "Niseko is the best place to ski in the world!" Since he came back to home country, spending his whole time in Niseko. He's been enjoying life in Niseko over 10 years now.
---
Certified by
Niseko United


ISIA(International ski instructors) Certified


CSIA(Canadian Ski Instructors' Alliance) Level3


---
Media
"Harmless" by TGP (Tough Guy Production) as extra

"The professional skiers" (Magazine in the US) about interpreting works

"Soul slide" (Ski Journal) about workshop with PSIA

"Fuji news paper" about English for skiing